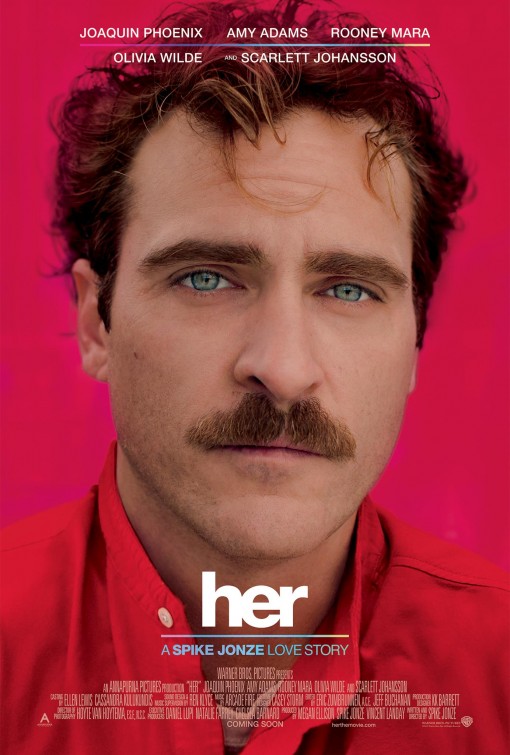 This week, we take a look at Her, a 2013 Sci-fi film directed by Spike Jonze. Making his screenwriting debut, Jonze's film became a sensational success, raking in numerous awards across the globe.
In a not-so-distant future, Her tells a story of a heartbroken man (Theodore) who has recently gone through a divorce. Theodore acquires an operating system for a sentient virtual assistant with highly sophisticated artificial intelligence (Samantha) to assist, organise & manage Theodore's work & personal lives. They grow closer and Theodore begins to fantasise about Samantha's ability to adapt and learn psychologically, eventually falling in love with her.
Her is a refined and polished piece of work. Applause to cinematographer Hoyte Van Hoytema and production designer K.K. Barrett for creating an alternative "dystopian" world without overused tropes & cliches commonly associated with dystopian films. Barrett draws influence from the 1966 film (Fahrenheit 451) where director Francois Truffaut wanted to portray a futuristic future without losing the elements of day-to-day living that we are all familiar with.
I love the world that Spike Jonze and the crew has created – bright colors, composition, and framing. Van Hoytema brings what Spike Jonze has envisioned to life. Drawing inspirations from Rinko Kawauchi and using coated vintage lenses alongside modern lenses, he gives this the entire film a dreamlike look. Additionally, Spike Jonze chooses to shoot the entirety of Her in the digital format instead of analog motion film due to the less desirable consequences of shooting in low light conditions (which makes up a significant portion of the film).
Perhaps, the essential question the film asks is: would you date your computer or operating system? In fact, the concept of dating an sentient, imperishable entity may be closer than we think. As humanity uncovers more and more technological breakthroughs, our artificial intelligence capabilities are becoming more advanced. Who knows? This could become a cultural phenomenon soon enough.
What is your definition of love?